Sometimes laundry means much more than just laundry.
For the Geelong Mums - a Victorian charity that supports families in need - doing laundry means cleaning donated clothing and bedding before providing them to another family. Recognising their commitment to their community and the important role they play, we were thrilled to be able to donate one of our washing machines to help them out. Making their work a little easier is a small thing we can do to help their worthwhile efforts.
The generous Geelong Mums operate their washing machine every minute of every day. So they needed something reliable and robust, yet gentle for the delicate fabrics used in children's clothing and linen.
Speed Queen Equipment Sales and 1300 WASHER jumped at the chance to play their part and installed a new Speed Queen washing machine. Managing Director, John Cameron said "With Speed Queen equipment designed to outlast anything else on the market we know this machine will help the Geelong Mums carry out their valuable community work for many years to come".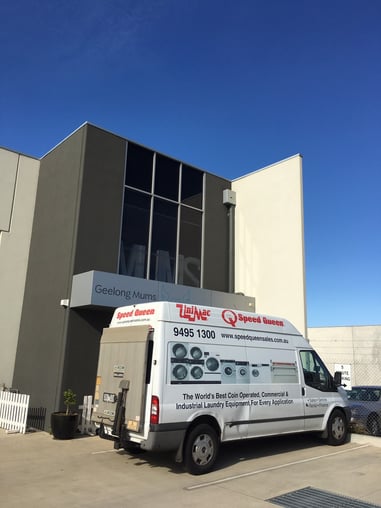 And by the sounds of it, The Mums are pretty happy too. Julia Roache the General Manager of Geelong Mums was quick to share her thanks with the entire Speed Queen team.
"You have made our job of providing beautifully cleaned and laundered clothing and equipment for families in need so much easier. We are so very grateful for the support of our community and we couldn't' do what we do without people like you."
Community work and charitable support have always been at the core of the Speed Queen values. We encourage you to learn more about the Geelong Mums and hope you'll support their amazing work too.