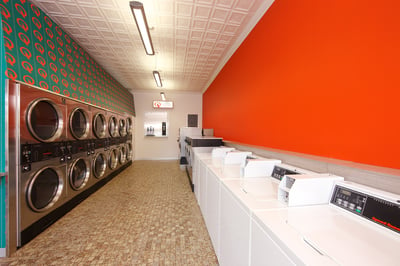 5 Simple things to look for
Finding the perfect location for a laundromat isn't complicated when you know what to look for.

These are the key things to look out for when trying to find the perfect location for your new business.
1.

LOCATION, OF COURSE
As you look around for a potential site, focus on locations that are near to your target customers and have easy access. For example, near several apartment complexes, and alongside a major road. Being close to another successful laundromat isn't ideal.
2. SIZE MATTERS
What is the perfect size? It depends. Sometimes a compact laundrette is perfect. Low costs, small footprint – squeeze it into a small space. Other times a larger laundromat will pay huge dividends. People flock to laundromats that always have available machines.
3. PARKING!
People just won't walk far with their washing. Who can blame them? Nobody wants to walk along a road displaying your dirty laundry… Or trying to navigate your way to the laundromat while herding the kids with you. If you have car parks right outside, you will win. People will choose a laundromat with the shortest walk – every time.
4. ENVIRONMENT
Choose a location you can make look appealing inside. A small amount of money can go a long way to making a space look light and clean and bright. We help with that, our design teams are experts at it.
5. PAYMENT OPTIONS
This one isn't really about location – but is just as important. Consider whether you are happy to be a slave to your laundry – collecting coins or tokens every week (minimum!). Or whether you want to enjoy a true passive income with cashless payment options.
MAKE IT PERFECT
The rest is really up to you. Good marketing, keeping things clean and tidy and making sure your machines are always operating will build a loyal customer base who will enjoy the service you provide for years and years.
WE CAN HELP
We've built more laundromats than anyone else in the world. There isn't much to know about them that we don't know. Get in touch and we will happily talk you through what is involved and the best way to start a laundromat business.