We don't just build laundromats, we build successful businesses
Here at Speed Queen, we're here to help. You might assume that our help is limited to only the physical and practical elements of a laundromat; which machines to choose, how many, the perfect layout... We do all those things, but also help with much, much more.
For example, in another article we mentioned how our local distributors can help you validate a potential site through our demographic reports. We can't make the decisions for you, but we offer information and advice gathered from years of experience.
One essential aspect of running a successful laundromat business, are your customers. It is critical that you communicate that you: a) exist, and b) offer something they value. Some will find out through word of mouth, or passing by your excellent signage - but to maximise your opportunity, you need to market your laundromat.

So, how can you market your laundromat?
Here are the tried and true ways to get customers:
Local letterbox drops. This involves leaflets to let your potential customers know you are in the neighborhood. These can also be effective when dropped near competitors laundromats with a compelling reason for someone to try yours instead.
Signage. This is especially important if your site is tucked away. Illuminated signage will make your site even more visible. See if there are options for street front signage.
Website/ social media. This increases customers trust of your laundromat and allows you to reach a wider range than many other forms of advertising. Your Google Business listing can be very useful - especially the reviews. This will place you higher up any search rankings in your area. Respond to comments will also increase your Google ranking.
Google ad words. Similarly to the website and social media, this allows you to reach a very wide range of people. If someone searches REGION laundromat you want to be as close to the top as possible and outrank your competitor!
Use the local business environment. Offer usage of the Speed Queen payment app to other local businesses like hairdressers and cafes. If in a shopping mall, tap into their existing promotional material like voice announcements and bollard signage. Putting up posters in local businesses (with their permission!) can also be effective.
Tailor your promotional material. Tap into the local market and demographic. Run a campaign for residents if the site is under apartments. Use local businesses in a shopping mall... sponsor the local footie or netball team.
Other online actions. listing on sites such as the SQ Laundry locator can further improve your online presence.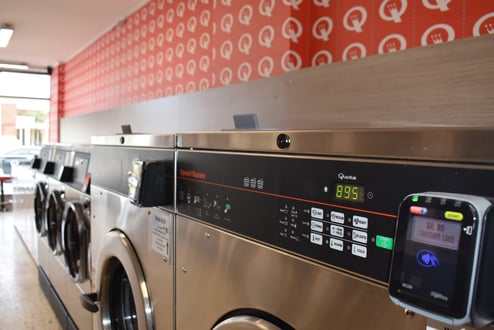 Sometimes, marketing for a laundromat can be easy, sometimes it is much more complicated. A good location can do most of the heavy lifting for you because your site already has good visibility or foot traffic around it. An example of this would be within a complex. However, these sites are snapped up quickly, so laundromats sometimes need to do more promotion than simply good signage. Every site will have a different best approach, which is why we are here.
Our distributors have years of industry experience and are here to help your laundromat succeed.
Want to find out how we can help you grow your Laundromat?